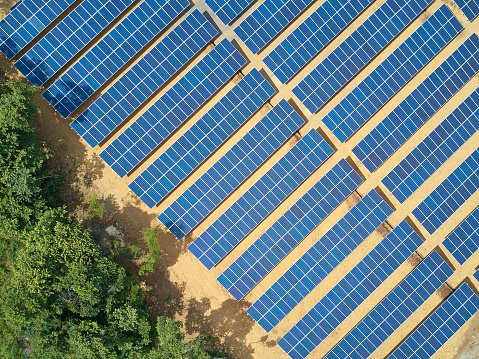 January 24
New Delhi: In another attempt to protect the local solar manufacturing market from Chinese imports, Indian companies are considering a fresh anti-dumping petition, after the recently implemented safeguard measures failed to provide the intended relief, an industry executive said.
India imports around 90% of solar equipment used in the country from China and Malaysia. In July last year, the finance ministry approved Directorate General of Trade Remedies' recommendation to impose up to 25% safeguard duty on imported solar panels and modules.
This, however, has made matters worse for domestic equipment manufacturers, following which they are looking to move another anti-dumping investigation, in a rather desperate attempt to salvage the industry.
Domestic manufacturers under the banner of Indian Solar Manufacturers' Association had filed a petition for anti-dumping investigation against China, Malaysia and Taiwan in 2017, which was eventually withdrawn.
"I definitely feel anti-dumping is the right approach for manufacturers. But yes, it's something we are deliberating as an industry," Gyanesh Chaudhary, managing director at Vikram Solar, told ET in an exclusive interaction.
While Chaudhary said the contours of the petition are not in place yet, the industry has to resort to 'extreme measures' as part of their 'survival strategy'. Vikram Solar, which is one of the leading solar module manufacturers in India, said the safeguard duty, which came into effect last year, has failed to provide relief since developers have been allowed to pass on the additional costs to discoms.
The duty, effective July last year onwards, is to be levied at 25% for the first year, 20% for the next six months, and 15% for the following six months, after which it is to be phased out.
Chaudhary said while developers continue to delay their module-purchase decisions, manufacturers in the special economic zone (SEZ) are now exporting their equipment. Vikram Solar is currently exporting 30% of their capacity, or around 250 MW to markets like Europe, the US, and the Middle East. "We look to double this number," Chaudhary said.
"Because of safeguard duty, we have taken almost 15% hit on our capacity utilisation, because projects have been stalled, decisions have been delayed and while the numbers say Chinese imports have stopped, that's mainly because projects have been stalled or delayed," Chaudhary said.
With the safeguard duty providing no respite to the existing manufacturers, another round of petition for the extension of safeguard duty for a longer time period, or a fresh anti-dumping investigation, was expected, industry experts said.
"If that happens, it will be another source of continued uncertainty for a long period of time. It shows that until there is a permanent solution to this whole Make in India campaign, this uncertainty will always be lingering over the sector," said Vinay Rustagi, managing director at Bridge to India.